In a recent post on the newly introduced component of Wolfram's language for image identification ImageIdentify Jordan Novet of Venture Beat conducted a quick test of ImageIdentify against 5 deep learning platforms for image recognition he chose. He selected "10 images from Flickr that seemed to clearly fall into the 1,000 categories used for the 2014 ImageNet visual recognition competition." and tagged them with ImageIdentify and 5 alternative image recognition services.
As one of the very first platforms as a service, offering such functionality worldwide, we felt we should join this funny experiment and make our humble contribution, by adding the tags Imagga's image recognition technology generated for the same 10 photos. You can try with your own photos using Imagga online image recognition demo.
We better leave the results speak for themselves. Please take all this with a grain of salt and don't forget that these results are obtained for just 10 randomly selected photos 🙂
1. Coffee Mug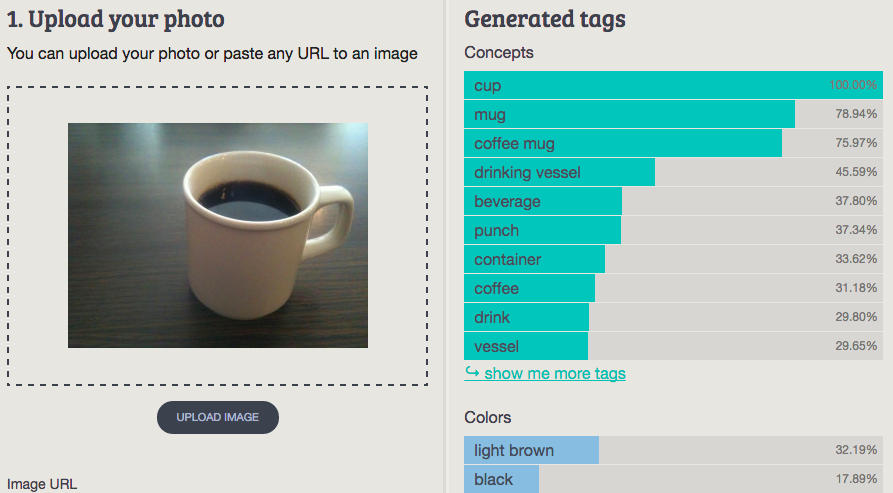 Imagga: cup, mug, coffee mug, drinking vessel, beverage, punch, container, coffee, drink, vessel
Wolfram ImageIdentify: tea
CamFind: white ceramic mug
Clarifai: coffee cup nobody tea mug cafe hot ceramic coffee cup cutout
MetaMind: Coffee mug
Orbeus: cup
AlchemyAPI: coffee
2. Mushroom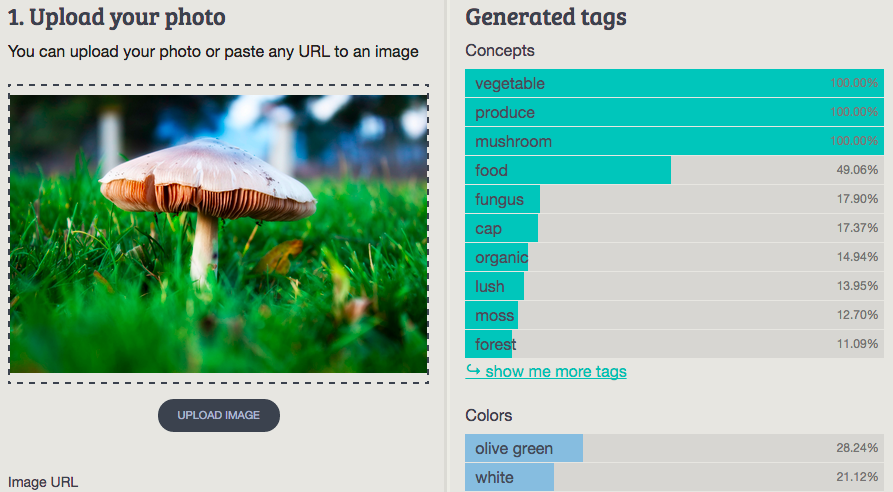 Imagga: vegetable, produce, mushroom, food, fungus, cap, organic, lush, moss, forest
Wolfram ImageIdentify: magic mushroom
CamFind: white mushroom
Clarifai: mushroom fungi fungus toadstool nature grass fall moss forest autumn
MetaMind: Mushroom
Orbeus: fungus
AlchemyAPI: mushroom
3. Spatula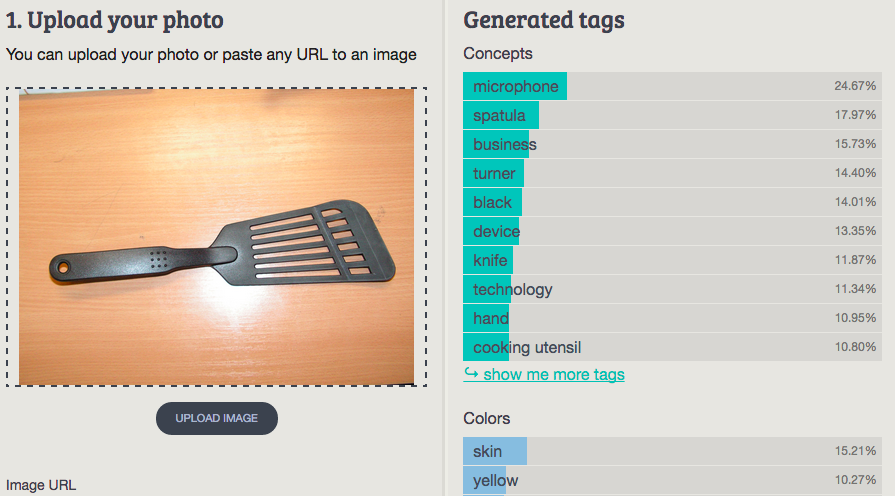 Imagga: microphone, spatula, business, turner, black, device, knife, technology, hand, cooking utensil
Wolfram ImageIdentify: spatula
CamFind: black kitchen turner
Clarifai: steel wood knife handle iron fork equipment nobody tool chrome
MetaMind: spatula
Orbeus: tool
AlchemyAPI: knife
4. Scoreboard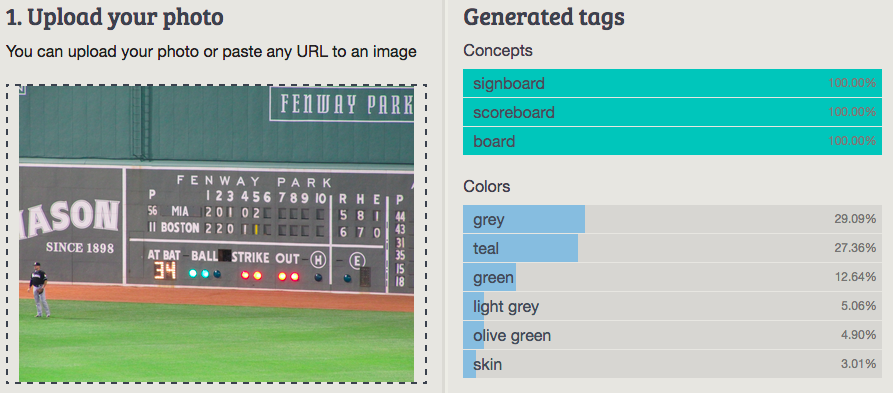 Imagga: signboard, scoreboard, board
Wolfram ImageIdentify: scoreboard
CamFind: baseball scoreboard
Clarifai: scoreboard soccer stadium football game competition goal group north america match
MetaMind: Scoreboard
Orbeus: billboard
AlchemyAPI: sport
5. German Shepherd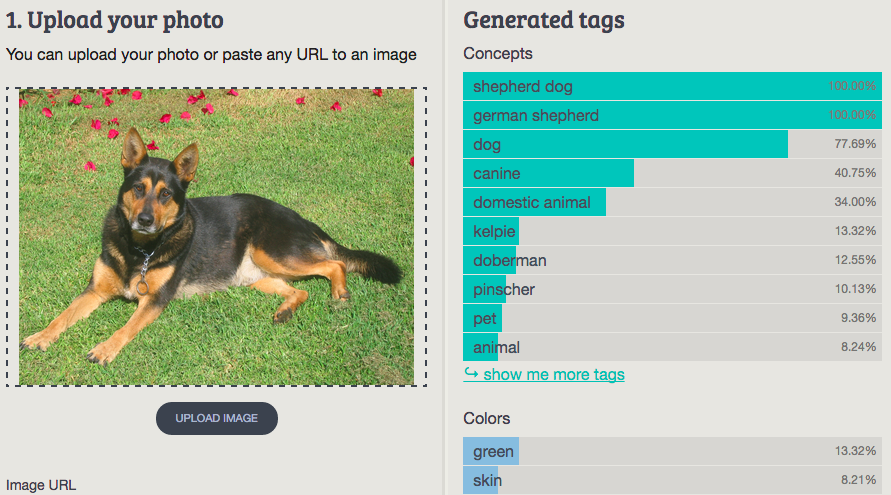 Imagga: shepherd dog, german shepherd, dog, canine, domestic animal, kelpie, doberman, pinscher, pet, animal
Wolfram ImageIdentify: German shepherd
CamFind: black and brown German shepherd
Clarifai: dog canine cute puppy mammal loyalty grass sheepdog fur German hepherd
MetaMind: German Shepherd, German Shepherd Dog, German Police Dog, Alsatian
Orbeus: animal
AlchemyAPI: dog
6. Toucan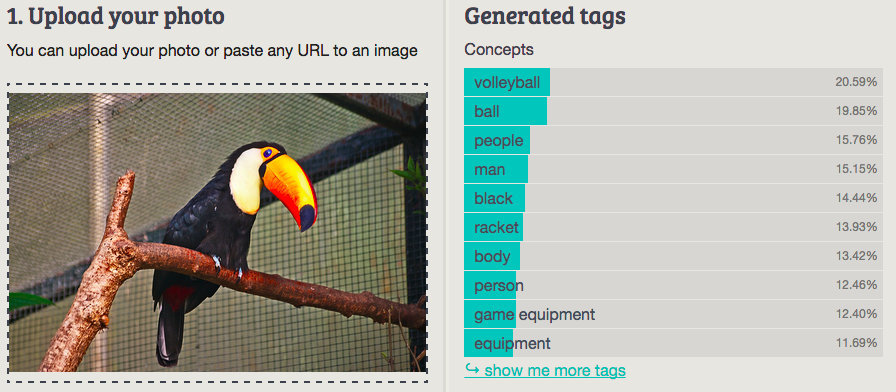 Imagga: volleyball, ball, people, man, black, racket, body, person, game equipment, equipment (nice try)
Wolfram ImageIdentify: tufted puffin
CamFind: toucan bird
Clarifai: bird one north america nobody animal people adult nature two outdoors
MetaMind: toucan
Orbeus: animal
AlchemyAPI: sport
7. Indian Cobra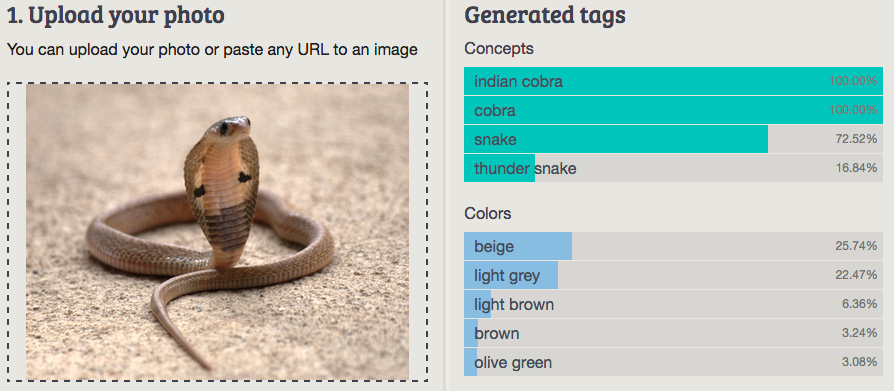 Imagga: Indian cobra, cobra, snake, thunder snake
Wolfram ImageIdentify: black-necked cobra
CamFind: brown and beige cobra snake
Clarifai: snake nobody reptile cobra wildlife daytime sand rattlesnake north america desert
MetaMind: Indian cobra, Naja Naja
Orbeus: animal
AlchemyAPI: snake
8. Strawberry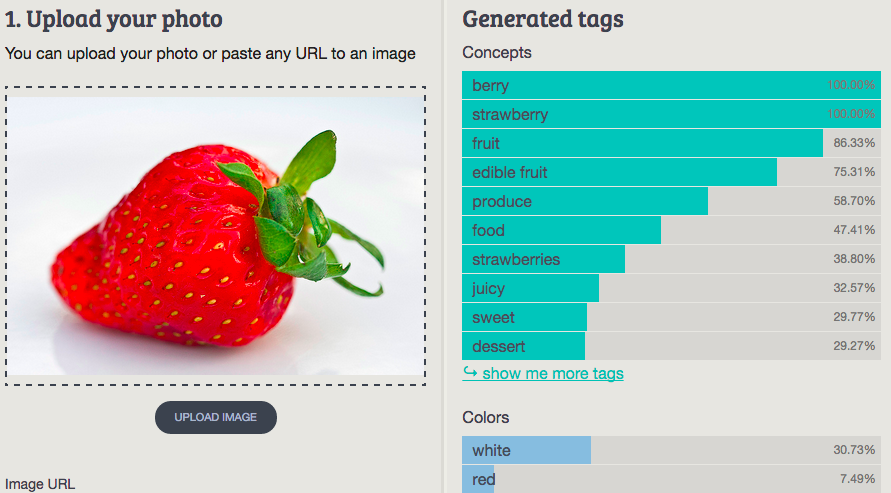 Imagga: berry, strawberry, fruit, edible fruit, produce, food, strawberries, juicy, sweet, dessert
Wolfram ImageIdentify: strawberry
CamFind: red strawberry ruit
Clarifai: fruit sweet food strawberry ripe juicy berry healthy isolated delicious
MetaMind: strawberry
Orbeus: strawberry
AlchemyAPI: berry
9. Wok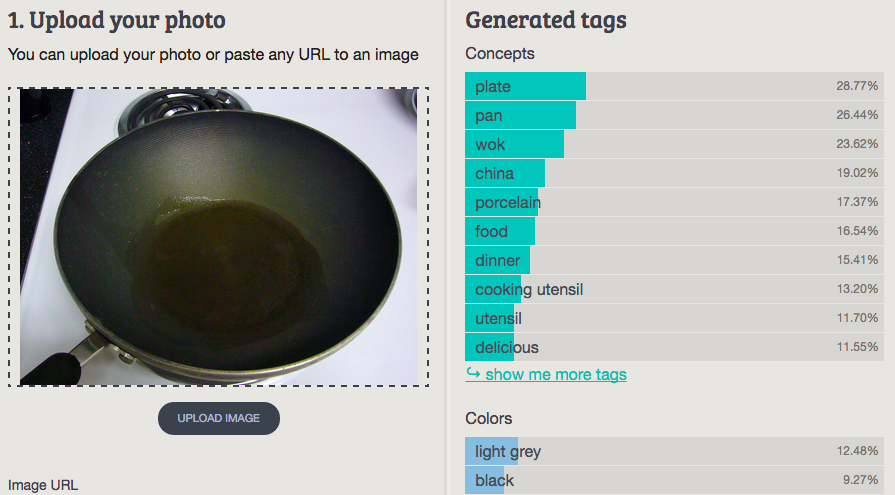 Imagga: plate, pan, wok, china, porcelain, food, dinner, cooking utensil, utensil, delicious
Wolfram ImageIdentify: cooking pan
CamFind: gray steel frying pan
Clarifai: ball nobody pan cutout kitchenware north america tableware competition bowl glass
MetaMind: wok
Orbeus: frying pan
AlchemyAPI: (No tags)
10. Shoe store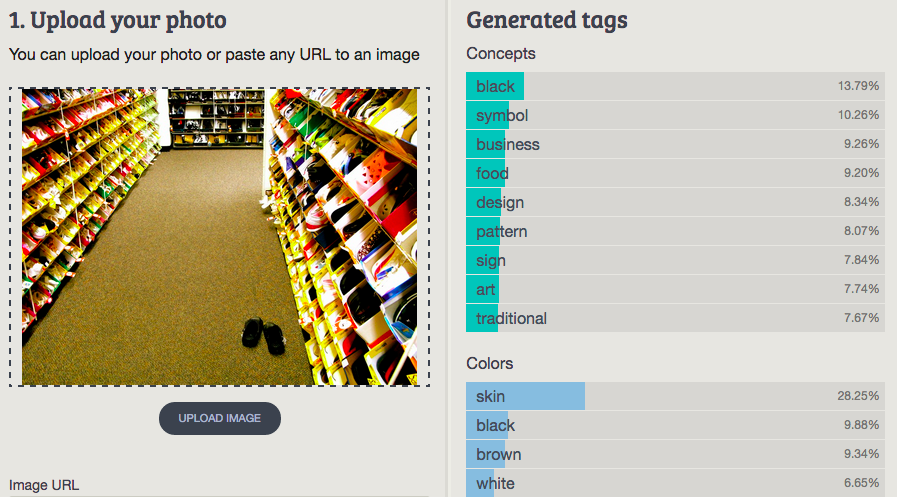 Imagga: black, symbol, business, food, design, pattern, sign, art, traditional
Wolfram ImageIdentify: store
CamFind: black crocs
Clarifai: colour street people color car mall road fair architecture hotel
MetaMind: Shoe Shop, Shoe Store
Orbeus: shoe shop
AlchemyAPI: sport
The fun part aside, we are quite interested to see soon a more comprehensive subjective and objective evaluation of all these services, including Imagga, with their pros and cons, on more representative and rich datasets, and depending on the way the tags will be used in different verticals and applications.
Competition is an important driver for every industry, so we are more than open to participate in such kinds of service comparisons and may even initiate such a comparison in the very near future.