GPU Technology Conference organized by NVIDIA is one of the best events for the GPU related industries. Artificial Intelligence invades by storm all technology fields and becomes a frontrunner for innovation. This year GTC16 showcased that by focusing on deep learning, virtual reality and self-driving cars. Over 5000 engineers, scientists and entrepreneurs had the chance to hear from the best on the field and learn about the great advancements in terms of hardware and software. NVIDIA announced some really impressive hardware like the Tesla P100 and the NVIDIA DGX-1 (the world's first deep-learning supercomputer powered by 8 cards that can speed up training times by over 12x). We are definitely going to consider it for our machine learning infrastructure in the foreseeable future.
Imagga was selected to present at the Machine Learning track about the practical use-cases for image classification and tagging. We've hand-picked a few particular and somehow diverse use-cases among the hundreds of companies and thousands of developers using the Imagga platform.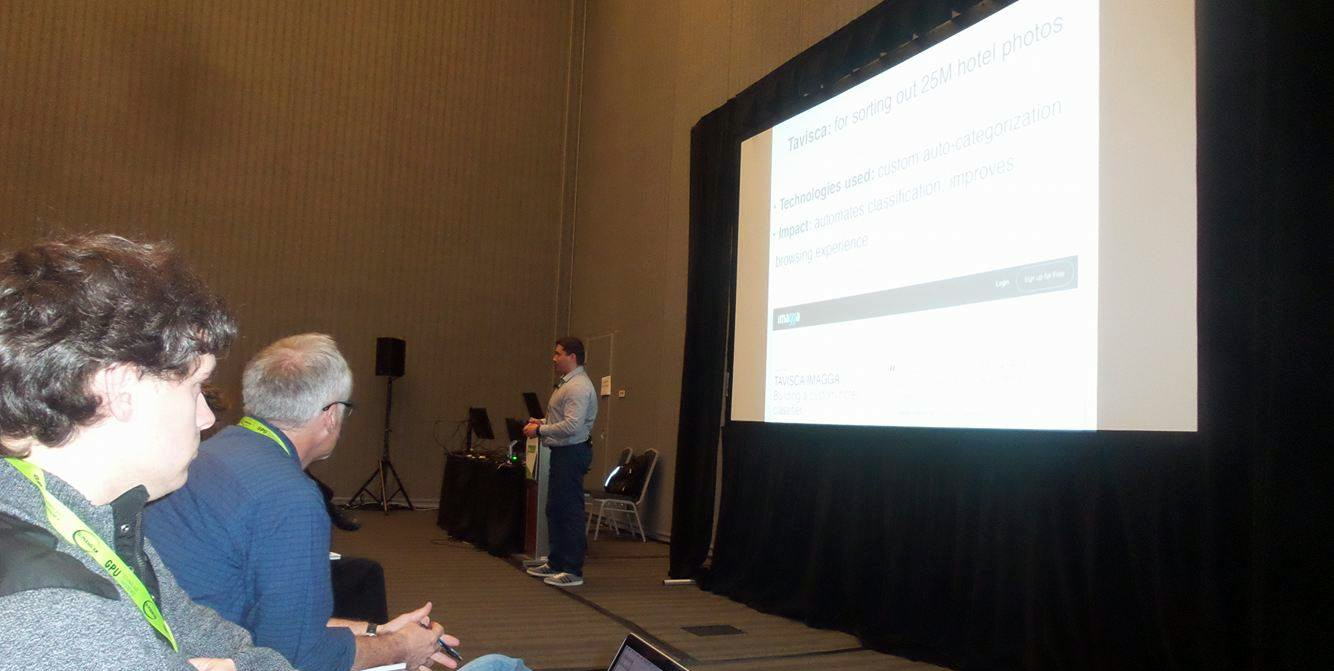 To give you a glance of the use cases we've used for our presentation, let's mention a few:
Unsplash used Imagga auto-tagging to reduce manual tagging of their amazing free stock photo offering and to enhance the search capabilities.
KIA Motors for quete precise user profiling based on Imagga's auto-tagging and color extraction.
Tavisca for building custom trainer to automated categorization of over 25M hotel related photos.
Seoul National University for generating custom classifier for waste pre-sorting.
More than just showcasing, the aim of our presentation was to inspire people,  to give them an idea how image recognition technology can be a game changer for industries that traditionally have been dependant on manual curation of image content.
It was amazing to see the audience involved in the subject, following up with question about the presented cases, as well as their own potential cases. We had the chance to meet existing and potential partners at the conference and to extend our network.
The organization was great and everything went quite smoothly. Thanks NVIDIA for the opportunity to be on stage and talk about the amazing product we are building with love from Bulgaria. We are looking forward to the next edition.