Image recognition based on Artificial Intelligence is changing the way many industries are going about their business — and it's also making life easier for end consumers too.
A great example of how machine learning algorithms come in handy in our day-to-day work and leisure activities is image background removal. Gone are the days when we manually had to erase the background and cut out objects from a photo with painstaking efforts. Automatic image background removal can get that done in no time — and with no manual work on our side.
In the current guide, you can find out the essentials about picture background removal and how an API based on Artificial Intelligence can be of immense help in your visual tasks.
What Is Image Background Removal?
Professionals across many industries — including advertising, e-commerce, and marketing, among others — need to remove the background of images on a regular basis. The uses of background removal for photos are so numerous that it's difficult to even list them — from social media and website images for brands to birthday greetings cards, and everything in between.
In fact, image background removal is a necessity for a wide range of professionals today. Online stores, fashion and design websites, interior design websites, and content management systems are just a few of the extra examples — on top of traditional graphic designers and different types of digital marketers. Media content managers, developers and car dealers are a couple of other professionals whose jobs may entail image background removal.
Background removal is also a necessity for many people who want to experiment with their personal photo collections. Users like to create image collages and make their extensive photo libraries come to life — be it for a family reunion presentation, a personalized greeting card, or a special gift to loved ones.
Previously, the only way to extract the background from a visual was to use an advanced software solution like Adobe Photoshop. You had to cut out the desired objects by hand through selecting the contours around them via point setting. For inexperienced graphic designers, it was a slow and tedious process that often did not yield the desired results. It sometimes even ended up in strange cutouts that seemed as though done by a child.
Visual solutions have advanced tremendously and Adobe Photoshop and Illustrator, as well as online tools like Canva, offer easier ways to tackle background removal. And yet, there's still manual work to be done with precision and at least some experience.
For graphic designers, photographers, and marketers who work on tight schedules, taking the time to remove image backgrounds by hand can turn into a nightmare. They need quick and effective methods for taking care of mundane tasks like this one — and ideally, with a single click.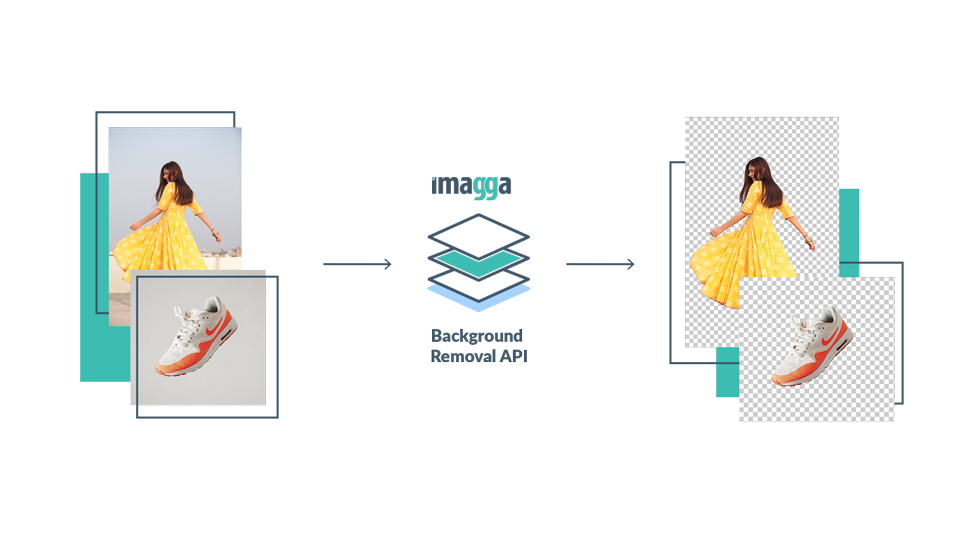 What Is an Image Background Removal API?
Instead of removing backgrounds from images by hand, you can use advanced AI-based solutions that get the job done with no fuss. That's what, in essence, is a background remover API.
1. How Does It Work?
The API is powered by machine learning algorithms that enable the so-called computer vision — which in turn allows for the quick and automatic recognition of objects in visuals. The software is trained to identify objects, people, places, elements, actions, backgrounds, and more. The more images are processed through the algorithm, the better it becomes at spotting different details.
On the basis of these capabilities, image recognition can be applied for a wide variety of automation tasks — image categorization, cropping, color extraction, visual search, facial recognition, and many more, including seamless background removal.
The AI-powered platform can recognize the objects and their outlines within an image with unseen accuracy — and to smoothly separate them from the background against which they have been photographed or placed.
2. Benefits and Uses of an Image Background Removal API
The benefits of automatic background removal are numerous:
High quality and utmost precision of object cutouts
Fully automatic process with a single API request
Processing of thousands of images at once via the API implementation
Saving tons of time and money for businesses
Enabling creativity for professionals and regular users alike
As noted earlier, background removal is a common task that is required across different industries and activities. Automatic removal with an image recognition API is thus useful for many types of professionals, as well as for end users.
Professional photographers and graphic designers may as well become the biggest fans of automatic background removal. They can focus their time on actually taking photos and creating visual assets rather than on their tedious technical processing — as the API can help optimize their workflows.
Marketing and advertising experts are the next in row. Visuals are powering up all social media, and nowadays there are barely any posts without images because they perform much better than text. That's why marketers rely heavily on them — and background removal is a common task they need to take care of before sharing a visual on their brand's channel.
Online shops, auto dealers, fashion and design platforms, and all kinds of e-commerce businesses are another set of common users for a background remover API. They all need to process visuals in order to sell their goods and services — and removing unwanted backgrounds from images is a typical task. With automatic removal, they can save time on these mundane jobs, while optimizing their online catalog for higher conversion.
Last but not least, both traditional and online media need image background removal in their daily work. Editorial visuals often have to be cropped, cleaned, and processed in different ways, including removing any elements in the background. In particular, media content editors regularly have to separate objects and people from photos to include them in news reports — be it during an election campaign or for announcing a novelty.
How to Use an API Background Removal?
Getting started with Imagga's picture background removal API is a simple process. Sign up for our private beta testing.
Frequently Asked Questions
What is an image background removal API?
An image background removal API to remove backgrounds from images I is a tool that allows you to process thousands of photos for background removal at once — with the help of Artificial Intelligence. 
How to integrate a background removal API?
It's not difficult to integrate Imagga's picture background removal API. You can sign up with us today and send requests to our REST API through your Imagga profile straight away. Sign up for our private beta testing.