Did you know that image recognition is one of the main technologies that skyrockets the development of self-driving cars?
Image identification powered by innovative machine learning has already been embedded in a number of fields with impressive success. It is used for automated image organization of large databases and visual websites, as well as facial recognition on social networks such as Facebook. Image recognition makes image classification for stock websites easier, and even fuels marketers' creativity by enabling them to craft interactive brand campaigns.  
Beyond the common uses of image recognition we have gotten accustomed to, the revolutionizing technology goes far beyond our imagination. Here are seven daring applications of computer vision that might as well belong in a science fiction novel – but are getting very close to reality today.
#1. Creating city guides
Can you imagine choosing your next travel destination on the basis of real-time location information from Instagram photos that other tourists have posted? Well, it's already out there. Jetpac created its virtual "city guides" back in 2013 by using shared visuals from Instagram.
By employing image recognition, Jetpac caught visual cues in the photos and analyzed them to offer live data to its users. For example, on the basis of images, the app could tell you whether a cafe in Berlin is frequented by hipsters, or it's a wild country bar. This way, users receive local customized recommendations at-a-glance.  
In August 2014, Jetpac was acquired by Google, joining the company's Knowledge team. Its knowhow is said to be helping Google's development of visual search and Google Glass, the 'ubiquitous computer' trial of the tech giant.
#2. Powering self-driving cars
In the last years, self-driving cars are the buzz in the auto industry and the tech alike. Autonomous vehicles are already being actively tested on U.S. roads as we speak. Forty-four companies are currently working on different versions of self-driving vehicles. Computer vision is one of the main technologies that makes these advancements possible, and is fueling their rapid development and enhanced safety features.
To enable autonomous driving, artificial intelligence is being taught to recognize various objects on roads. They include pathways, moving objects, vehicles, and people. Image recognition technology can also predict speed, location and behavior of other objects in motion. AI companies such as AImotive are also instructing their software to adapt to different driving styles and conditions. Researchers are close to creating AI for self-driving cars that can even see in the dark.
#3. Boosting augmented reality applications and gaming
Augmented reality experiments have long tantalized people's imagination. With image recognition, transposition of digital information on top of what we see in the world is no longer a futuristic dream. Unlike virtual reality, augmented reality does not replace our environment with a digital one. It simply adds some great perks to it.

You can see the most common applications of augmented reality in gaming. A number of new games use image recognition to complement their products with an extra flair that makes the gaming experience more immediate and 'real.' With neural networks training, developers can also create more realistic game environments and characters.
Image recognition has also been used in powering other augmented reality applications, such as crowd behavior monitoring by CrowdOptic and augmented reality advertising by Blippar.
#4. Organizing one's visual memory
Here's for a very practical image recognition application – making mental notes through visuals. Who wouldn't like to get this extra skill?
The app Deja Vu, for example, helps users organize their visual memory. When you take a photo, its computer vision technology matches the visual with background information about the objects on it. This means you can instantly get data about books, DVDs, and wine bottles just by taking a photo of their covers or labels. Once in your database, you can search through your photos on the basis of location and keywords.
#5. Teaching machines to see
Besides the impressive number of image recognition applications in the consumer oriented market, it is already employed in important manufacturing and industrial processes. Teaching machines to recognize visuals, analyze them, and take decisions on the basis of the visual input holds stunning potential for production across the globe.
Image recognition can make possible the creation of machines that automatically detect defects in manufacturing pipelines. Besides already known faults, the AI-powered systems could also recognize previously unknown defects because of their ability to learn.
There is a myriad of potential uses of teaching machines to perceive our visual world. For example, Xerox scientists are applying deep learning techniques to enable their AI software mimic the attention patterns of the human brain when seeing a photo or a video.
#6. Empowering educators and students
Another inspiring application of image recognition that is already being put in practice is tightly connected with education again – but this time, with improving education of people.
Image recognition is embedded in technologies that enable students with learning disabilities receive the education they need – in a form they can perceive. Apps powered by computer vision offer text-to-speech options, which allow students with impaired vision or dyslexia to 'read' the content.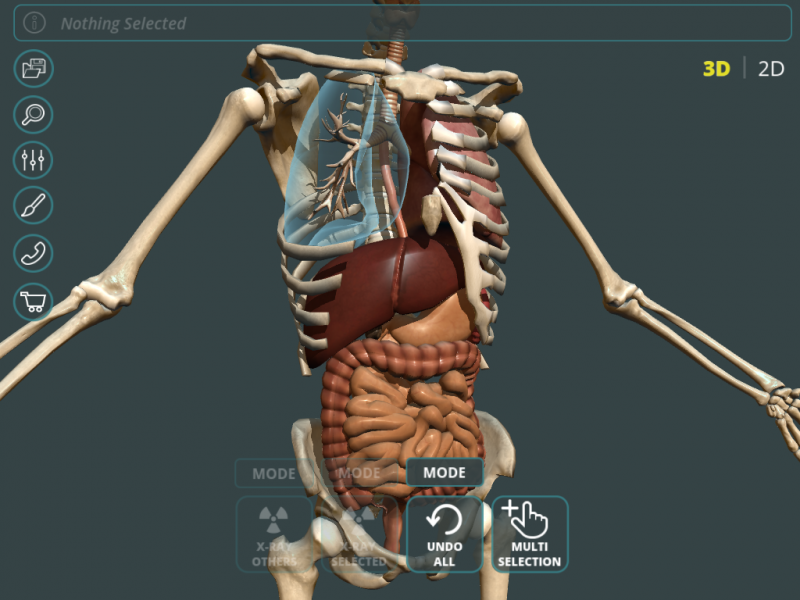 Applications of image recognition in education are not limited to special students' needs. The technology is used in a range of tools that push the boundaries of traditional teaching. For example, the app Anatomy3D allows discovery of the interconnectedness between organs and muscles in the human body through scanning of a body part. It revolutionizes the way students can explore anatomy and learn about the way our bodies function. Image recognition uses can also help educators find innovative ways to reach ever more distracted students, who are not susceptible to current methods of teaching.   
#7. Improving iris recognition
Iris recognition is a widely used method for biometric identification. It's most common application is in border security checks, where a person's identity is verified by scanning their iris. The identification is conducted by analyzing the unique patterns in the colored part of the eye.
Even though iris recognition has been around for a while, in some cases it is not as precise as it's expected to be. The advancement of image recognition, however, is bringing new possibilities for iris recognition use across industries with improved accuracy and new applications. Most notably, iris identification is already being used in some consumer devices. The smartphones Samsung Galaxy Note7 and Galaxy S8, and Windows Lumia 950 are among the ones already equipped with such a capability.
While recognition is becoming more precise, security concerns over biometrics identification remain, as recently hackers broke the iris recognition of Samsung Galaxy S8. Together with the advancement of computer vision, security measures are also bound to improve to match the new technological opportunities.    
Have you had an experience with AI technology from a movie that years later you seen in real life? Share with the rest of the group and if it enough people like it we can build it together.
The uses of image recognition of the future are practically limitless – they're only bound by human imagination. What is the practical application of computer vision that you find the most exciting or useful? We'd love to read about it in the comments below.