What a year! 2019 was nothing less than super dynamic for us, and we feel super energized and in perfect shape to carry the momentum into the rest of 2020!
First of all, we want to thank all of you who have been with us on this journey – making image recognition work for businesses big and small. Image AI is not just a hype, but something very practical – we help cut costs and save time, making processes more efficient and opening new business opportunities.
We are proud to share with you a summary of what we were able to achieve together in 2019. 
New Releases
We managed to develop further and publicly release multiple technology offerings that were in the makings and only accessible to a closed circle of customers.
Visual Search
Through Visual Similarity Search API, you can now implement image-based search capabilities into your software systems and applications. Fashion retail, e-commerce, and household goods leaders are using it to make product discovery easier, offer product recommendations and alternatives to products out of stock. 
Face Recognition API
We are excited to share that our Face Recognition API has been recently released to allow companies to unlock precise and robust face detection and recognition functionality in their applications and systems. Besides the obvious need for facial recognition in security applications, facial recognition for marketing and retail has been successful.   
Object Localization
As part of our Custom Model Training, you can now take advantage of positional detection of whatever type of objects you need. This approach has been applied successfully in cases ranging from detecting guns in images to finding defects (each defect virtually being "an object") in Industry 4.0 content to AR in mobile gaming.
Edge Deployment 
We successfully ported our classification and object detection technologies to run smoothly and efficiently on the edge. Currently, we support the two major mobile ecosystems – iOS and Android. We also started offering a unique hybrid model where part of the image analysis happens on the edge, and the real, heavy-lifting processing is done in the cloud.
Wordroom – Lightroom Classic Plugin 
Last but not least, we managed to release a significant update of one of our consumer-oriented "pet projects gone popular" – Wordoom. It's a plugin for Adobe Lightroom Classic that automatically suggests up to 30 keywords per photo and ingests them in the image metadata. It got featured on DPReview, resulting in lots of positive feedback and suggestions for features. We published Wordroom's public roadmap to track all the ideas and help our users see when new features will be released.
New Developments
We started two significant projects aiming to deliver to our customers even better solutions built on top of Imagga's AI technologies. 
Content Moderation Platform
One of the most significant developments we ignited in 2019 was our Full-Circle Content Moderation Platform. If your project operates with user-generated content, you most certainly need to monitor it and remove illegal and abusive pieces to guarantee the safety of your users and protect the trust in your brand. Our solution handles every aspect of the content moderation process, providing automatic filtering of unsafe content in images, videos, and live streaming. Read about its capabilities and let us know if you have any feature requests.
On-Premise Ver. 2
Our on-premise solution has always been a critical differentiator to cloud-only offerings. We started a major update of its internals to allow even more comfortable handling of scale when you need to use your infrastructure. Stay tuned for the upcoming release. 
Signature Customers
PlantSnap
We successfully continued our long-term partnership with PlantSnap, the best plant identification application on earth powered by our technology to recognize more than 100,000 different plant species. PlantSnap is currently fundraising and on the verge of several huge partnerships, so make sure to take a seat on the rocket ship.
World-Class Game Development Studios
AI is getting deeply integrated into any aspect of the digital world, and gaming is not an exception. We signed several major customers utilizing our technology for use-cases ranging from on-device object detection for AR experiences to internal assets organization. 
Wrist Watch Super Brand
Traditional industries may also benefit from image recognition, and we helped one of the most reputable brands in the world to classify wristwatches in an automated fashion.
Key Partnerships
Several partnerships played a crucial role in our success this year and felt nothing but gratitude to the companies 
Humans in the Loop (HITL)
Thanks to our close partnership with HITL, now we can handle the whole process after the problem definition, including data collection and data annotation. This way, we close the circle of AI services that aid customers interested in our already established ML custom training, optimization, and deployment.
L3C
We started a collaboration with L3C to offer full hardware+software solution to the UK and European customers, taking advantage of the robust IBM POWER 9 architecture. It turned out it's very well suited for massive model support because of its hardware topology that enables fast communication between CPU and GPUs. 
Eden Tech Labs
We started working with Eden Tech Labs, a mobile dev studio, as a close partner and integrator of our technology in various mobile and web platforms, solutions, and apps. 
Experiments
IBM Power 9
We did evaluation and experimentation with large model support for semantic segmentation of cityscape and waste images benchmarking IBM Power AC922 vs. NVIDIA DGX Station vs. Amazon Web Services p3.8xlarge instance. Read about the findings of the benchmarking test here. 
Funding
We were able to utilize funding coming as a blend of European and local government grants for innovative projects to develop further our solution for better organization of personal photos with code name PhotoBox. If you already use (or plan to use) our technologies for that purpose, please let us know, and we will be happy to discuss the improvements there.
Events
Throughout the course of the year, Imagga took part in various trade shows, industry events, and workshops. 
EU Gateway trade mission to Singapore and Thailand
One of the advantages of being an EU based company is that the European Union is providing substantial support in promoting and exporting innovative technologies like ours. EU Gateway trade mission made it possible to meet business partners in Singapore and Thailand. 
ML DAY Munich
Georgi did a presentation on the practical applications of AI in Retail and Content Moderation.  
BAPLA FOCUS London
Firechat discussion on the state of the art and future of AI in stock and media licensing along with panelist form Getty Images
DMLA Los Angeles
Georgi participated in the event and discussed the state of the art and future of AI in stock and media licensing along with panelists from IBM, Google, and CloudSight.
IBM Think London
Together with our partners L3C, we presented Intel POWER 9 experiment for business applications.
DAM Helsinki
We participated in the Digital Asset Management conference in the heart of beautiful Helsinki, where we presented to the industry how Image recognition and AI can improve workflow efficiency in DAM systems.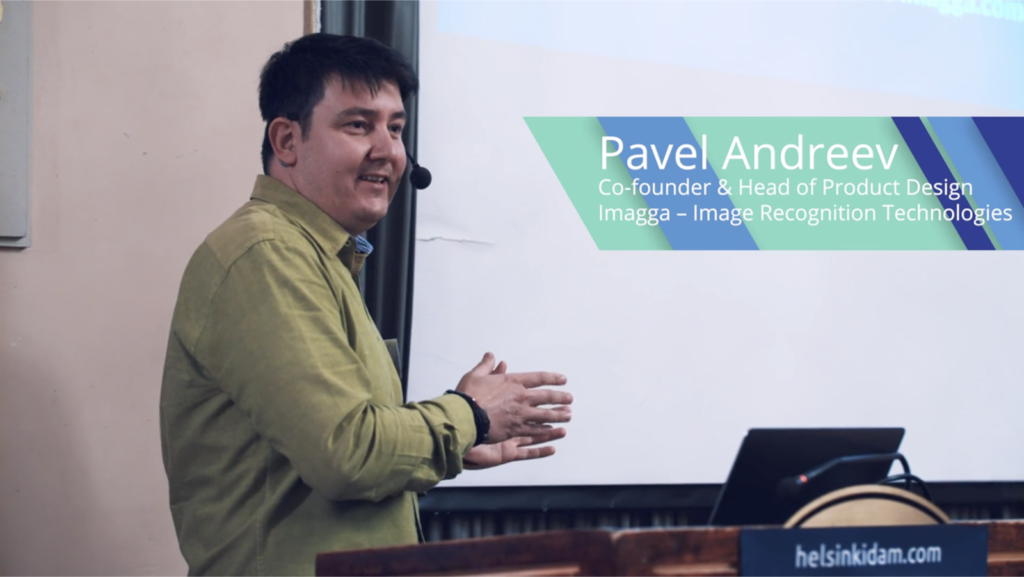 Team Expansion
A few things make a company happier than bringing more bright people on board. This year we were lucky enough to extend the team with experienced marketing professionals and young talent in the area of machine learning:
Ina Toncheva, Head of Marketing
Ina has 12+ years of experience in communicating and driving tech product growth in the digital environment for companies like Telerik, Progress, Chaos Group, and now Imagga. Her specialties include marketing strategy, content, product, and growth marketing. Over the years, she has launched numerous software products that have successfully penetrated new markets.
Petko Ditchev, Senior Machine Learning Researcher and Developer
Petko is a Senior Researcher at Imagga. He is a medical doctor turned developer. His focus is on cognitive science and its applicability in the field of AI. 
Mihail Mladenov, Machine Learning Developer and Data Scientist
Mahial is a software engineer and data scientist. He joined the Imagga team in June 2019. He is currently working on the practical implementation of A.I in the company projects and supporting them with extensive data analysis.
Ralitsa Golemanova, Senior Content Creator
Ralitsa Golemanova is an experienced content creator and writes for Imagga's blog regularly. She has created content and marketing campaigns for various types of businesses from across the world. 
Recognition
It's rewarding when all the hard work a company does is recognized. We were proud to have our image auto-tagging technology ranked as one of the most precise out-of-the-box AI solutions worldwide outperforming competitors like Google Cloud Vision and Amazon Rekognition based on an independent technology evaluation by a reputable Israeli university. What is impressive is that we managed to be among the top performers in precision while at the same time being the absolute champion in recall! A trade-off that is not trivial to achieve.
Plans And Focus For 2020
We already started executing our ambitious plans for the new year with some very exciting updates to the core image recognition technology and AI solutions we are working on to release.
Content Moderation Platform 
Content Moderation was a hot topic last year with the apparent need for disruption. Currently, hundreds of thousands of human moderators have been working tirelessly to make our kids safe and prevent misinformation. Unfortunately, they are paying a high price sacrificing their mental health. Imagga's Content Moderation Platform is designed to get the advantage of our NSFW AI capabilities and aid human moderators in AI-enabled filtering out questionable content. 
PhotoBox
We are busy building a personal photo organization solution for cloud platforms and telcos that will help the burden of organizing and later discovering visual content. 
We continue to dedicate efforts to better adoption of our existing technologies, focusing on Digital Asset Management, e-commerce, and factory management (blog post on our progress in this field), offering custom models and classifiers for various existing and new clients.
As always, we will be pushing significant improvements on Imagga's Core AI platform and also plan an update of the business model.
If you have read so far, you might be a faithful Imagga supporter! We are excited about the opportunities 2020 offers and hope you will join us one way on another in our journey.