Automation
of the visual data
organization process
Save
time for organizing and
finding visual data
Founded in 2009, IntelligenceBank helps marketers produce great content, quickly. It's marketing software for managing projects, showcasing brand guidelines, centralizing digital assets, editing and approving creative. The company has offices in the US, Canada and Australia and also provides a range of other process management software for boards, knowledge management and risk. For more information, visit intelligencebank.com.
IntelligenceBank is a cloud based Digital Asset Management (DAM) Software company providing organizations with tools to organize and manage their visual content. Businesses can easily store and exploit creative files thanks to features such as advanced keyword search, workflow approval processes, content moderation, and distribution. IntelligenceBank DAM greatly improves inter-departmental digital file sharing by providing a personal and secure digital cloud for all of their visual content.
The Challenge.
Time Consuming Categorization.
Customers typically upload anywhere between 50-300 images in large bulks, often without any metadata, captions or keywords. Besides the time-consuming task of manually keywording each and every file, it is a challenge to maintain a consistent tagging and categorization process. When users upload up to 1 million photos in a single month, a frequent occurrence while onboarding, it becomes close to impossible to do this manually.
Intrinsic Problem.
The discoverability of digital media is at the core of a successful media management system. A DAM solution is only as good as the data it is managing. Thus accurate and consistent metadata is key to take full advantage of IntelligenceBank powerful set of management tools. A collection of any size only reaches its true potential when it is fully and properly indexed. For this, it needs two foundations: accurate metadata and a powerful DAM to manage it.
Customer Demand.
Over time, IntelligenceBank's customers started to demand a solution that could help tag their images with relevant keywords while eliminating the inaccuracies of human intervention. With over 2.5 million images processed a month, this was an issue that had to be solved at scale.
After testing several vendors, IntelligenceBank concluded that Imagga's Auto-Tagging API had the highest accuracy in object recognition. Furthermore, Imagga's API provides categorization and has the most comprehensive keyword library for tourism, health, nature, travel, food, plants, popular within users of DAM solutions.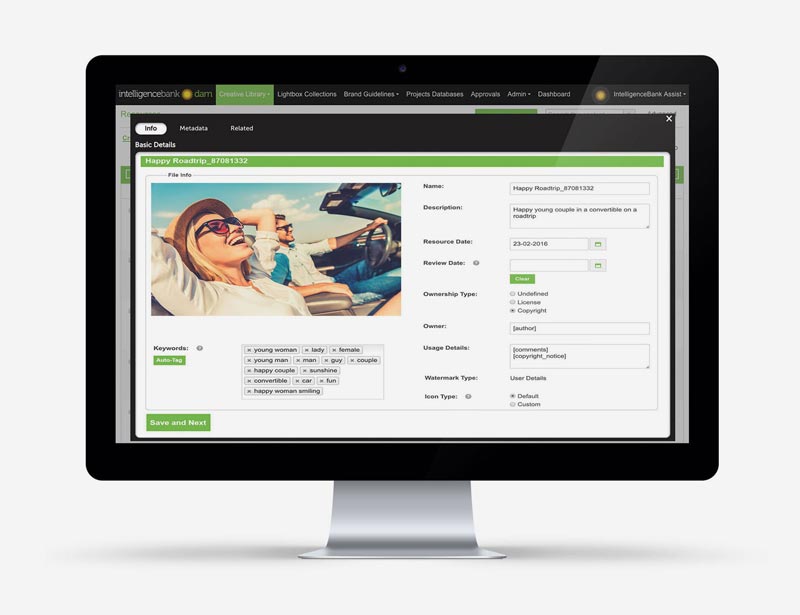 The Solution.
Artificial Intelligence powered auto tagging saves IntelligenceBank users days of laborious data entry work. This is a huge incentive for customers who initially hesitated implementing a DAM solution, daunted by the prospect of having to manually keyword thousands, if not millions of images. With Imagga's Auto-Tagging API implementation, keywording is done instantly, rather than requiring weeks and months of manual labor.
While automatic tagging is not perfect and some human curation is still needed, it does provide IntelligenceBank users with a massive head start when categorizing files. The keyword auto-tagging feature thus removed an important barrier of entry for companies introducing IntelligenceBank DAM into their business process.
Implementation & Support.
IntelligenceBank chose Imagga for 4 reasons: results accuracy, new features roadmap, facial recognition capabilities and ease of integration.
"If we had questions or issues with the API, Imagga's team always followed up within a day or two. Support has always been timely and excellent."
" Artificial intelligence can improve business processes everywhere – including digital asset management. "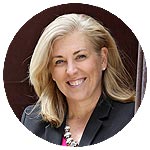 Tessa Court
CEO of IntelligenceBank
Experience After Working Together for 1 Year.
"The results were overall better quality than other offerings in the market and we liked how it was able to recognize famous landmarks. We have a lot of customers in the travel and tourism industries so that was a nice added value for them.".
"While AI keyword tagging as an industry is not 100% perfect, our clients love the head start. It gives them when bulk uploading files - especially for stock photography and lifestyle photo shoots. It's also extremely helpful when clients migrate their digital assets from their shared drives into our system."
"Artificial intelligence can improve business processes everywhere – including digital asset management. Our automatic keyword tagging solution solves a real problem most marketers face – a growing library of digitized creative content without robust categorization so they are easily searchable. Auto Keywords removes the pain from this administrative task, and enables marketers to both expedite and automate this necessary but often times ignored process." said Tessa Court, CEO of IntelligenceBank.
It's Easy to Implement Tagging API.
You can implement our API for free (up to 1,000 calls a month) to test it within your application.