Privacy
covering the ultimate
privacy requirements
Automation
organizing vast amounts
of customer visual data
Swisscom AG is a major telecommunications provider in Switzerland. Its headquarters are located at Worblaufen near Bern. The Swiss Confederation owns 51% of Swisscom AG. As of the end of 2015, Swisscom had around 21,000 employees and generated revenues of CHF 11+billion.
Swisscom has also built a cloud service called myCloud, based in Switzerland, which adheres to the strict privacy laws of Switzerland. The data is stored within Switzerland's borders but the service allows users global access.
Swisscom myCloud is the Swiss online storage for photos, videos and other files. It allows users to store, access and share their personal data at anytime, anywhere and from any device. The key advantages of the service are:
Free and unlimited - myCloud is free for everyone. Swisscom NATEL® infinity and Vivo customers enjoy unlimited storage and everyone else 15 GB.
Secure at the heart of Switzerland - all data is stored in Swiss data centeres and is therefore subject to domestic data protection law.
Share and organise data - users can share photos and videos with friends and family in just a couple of clicks. Photos are automatically organised and displayed according to subject and location.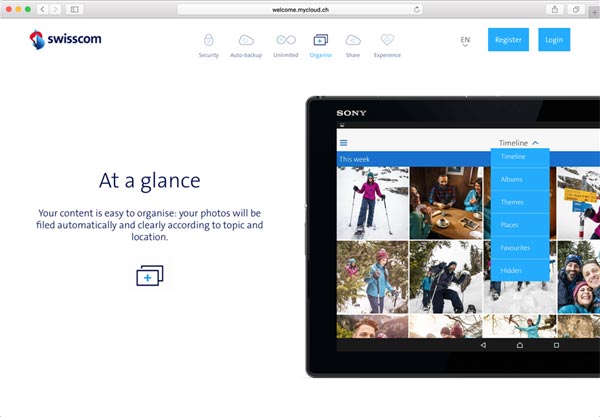 Secure your memories - users can digitalize their favourite moments today so they can enjoy them ever after.
For smartphone and tablet - with the myCloud app users can always access their content and enjoy mobile use of all Swisscom myCloud functions.
TV Support - with myCloud you can present your pictures on Swisscom TV or any Android TV.
The Challenge.
Swisscom needed a solution that can handle huge amount of photos, organise them based on visual topics and enable users to browse and search within their own collections of personal photos. There were two major requirements - state-of-the-art technology and ability to install it on Swisscom's premises, for privacy and security reasons, that are very important for their cloud product.
After thorough testing and evaluation of multiple potential vendors, Imagga matched both requirements perfectly and Swisscom decided to go in production using Imagga's solution.
Being able to improve the user experience around visual content for Swisscom subscribers in a timely manner was very important - Imagga's API, besides being state of the art in terms of technology, was also very easy to setup and use.
" It is a very easy to use API that has proven to be very stable. Also, the team behind the API has always supported us with very prompt and professional responses to our technical questions. "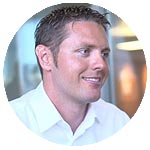 Andreas Breitenmoser
Project Manager, Swisscom A.G.
The Solution.
The process was quite smooth. At first Swisscom were able to test, evaluate, and integrate (in a matter of hours) the cloud version of the API in a pilot project. Then with the help of the Imagga infrastructure engineers they managed to setup the on-premise version of the API in less than two days in their own secure data center.
"Imagga's API impressed us with the quality of the recognition technology - recognising both objects and broader scenic categories. The fact it has a special personal photo categorisation feature pre-bundled also helped our decision to select Imagga's solution over other alternative offerings. For us as a company known for its rock solid security and privacy policy it was important to have the option for an on-premise solution - something Imagga were able to offer." said Andreas Breitenmoser, Project Manager, Swisscom A.G.
On Premise Image Recognition software.
Get Imagga's most advanced visual A.I. solutions on your own servers.